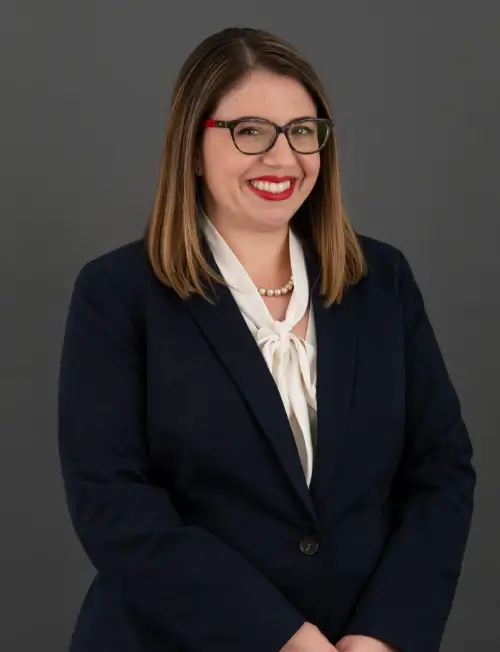 Heather B. Samuels, Esq.
Founding Attorney
Heather Boyer Samuels is a Florida Bar Board Certified Specialist in Elder Law. Ms. Samuels concentrates her practice in the areas of Medicaid and Veterans Asset Protection Planning, Estate Planning, Special Needs Planning, Probate and Trust Administration.
Ms. Samuels graduated cum laude and within the top 20% of her class at Nova Southeastern University's Shepard Broad Law Center and was an advocate with the Moot Court Society. Heather serves the community as the Immediate Past President of South Palm Beach County Florida Association for Women Lawyers, the Chair of the Elder Law Section of the Florida Bar's Ethics Committee and a member of the Executive Council of the Elder Law Section of the Florida Bar and is a Class VIII fellow of the Florida Bar's Wm. Reece Smith, Jr. Leadership Academy. In 2020, Heather was honored by the Elder Law Section as "Member of the Year" for her work as Co-Editor of the Elder Law Advocate.
As an attorney, Ms. Samuels understands that her role is not only to be an advocate, but also to listen and counsel. With a background in feminism and civil rights, Heather embraces the importance of tikkun olam—a Jewish phrase that means "heal the world"—a practice that requires the performance of "mitzvot" or good deeds, the exercise of social understanding and equality for everyone, and adherence to ethical practices to improve society as a whole.
Although like many South Floridians Ms. Samuels is a New York native, she enjoys life in South Florida with her husband, a CPA, their two small children, and their elderly Cavalier King Charles Spaniel.
Education
J.D., cum laude, Nova Southeastern University Shepard Broad Law Center
M.A., Florida Atlantic University
B.A., Harriet L. Wilkes Honors College, Florida Atlantic University
Bar Admissions
Memberships
Florida Bar, Elder Law Section
Florida Bar's Wm. Reece Smith, Jr. Leadership Academy, Class VIII Fellow National Academy of Elder Law
Attorneys
Academy of Florida Elder Law Attorneys
South Palm Beach County Bar Association
South Palm Beach County Florida Association of Women Lawyers – President
Florida Lawyers Network
Elder Concert, Co-Chair
Public Works
Co-Editor of the Elder Law Advocate, 2015-2020
Past Chair of the Palm Beach County Bar Association's Elder Law Affairs Committee, 2016-2020
"(Un)Fair Hearings: Navigating DCF's Internal Appeals Process Efficiently" 22nd Annual Elder Law Affairs
Seminar, Palm Beach County Bar Association, November, 2019
"Fair Hearings Nuts and Bolts" Florida Bar Elder Law Section, January 2019 Annual Update
"The Elder Law Overlap" Florida Lawyers Network, November 2020
"Back to the HC: How I Became and Elder Law Attorney" Harriet L. Wilkes Honors College, Florida Atlantic
University, "Law in The Real World" Annual Seminar Presentation, 2013-present
Presentations To Local Civics Groups
"Medicaid and VA Planning: How to Succeed" January 2020
"Guardianship Avoidance 101: How to Ensure Your Estate Plan Keeps You Out of Court!" November 2019
"A Primer on Special Needs Trusts" August 2019
"The Ideal Plan: Asset Protection Planning for the Aspiring Elderly" December 2018
"What is Medicaid Planning?" February, 2018
"Five Myths and Facts Regarding Government Benefits" November 2017
"Top 10 Rules for Getting Aging Ready" October 2017
"Using Medicaid & VA Benefits to Get Aging Ready" June, 2016